Welcoming the New Year: A Twelve-Step Retreat
Led By: Sr. Shane Phelan, CMA
Suggested Donation: $275
Wednesday, 30 December 2020 – Friday, 1 January 2021
Do you struggle with the holidays? Or do you just need a tune-up? Either way, the New Year is a great time to take stock of your spiritual program. Come listen for the ways God is calling you to new life in the coming year.
We will have meeting time each day and time for silent reflection and journaling.
This retreat is open to all people in 12-Step programs. It is a space for confronting our addictions in all their manifestations. Come with an open heart and a desire to see God in one another and yourself.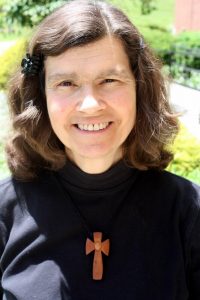 Shane Phelan, CMA is the co-founder of the Companions of Mary the Apostle, a religious community for followers of Christ of all genders. The Companions blend settled "monastic" life with networked active members. You can learn more about the Companions at www.companionsofmarytheapostle.org. She is an Episcopal priest, retreat leader, and spiritual director. She lives in West Park, NY.